Easter is a time for Bunnies and rabbits. Easter Bunnies are symbol of happiness, fertility and rebirth. If you are interested in making Easter bunnies, this post is related to you. We collected some awesome ways to make Easter rabbits which can help you in Easter Decoration at home. We have ideas to make fluffy pom pom bunnies, Knit Bunny, chocolate bunnies, Easter Bunny Envelopes, socks bunnies, donut bunnies and many more. Just have a look at our cute DIY Easter bunny collection and you can't stop yourself of trying them at home. These colorful, adorable and easy to make Easter Bunny projects are sure to be loved by crafters of all ages.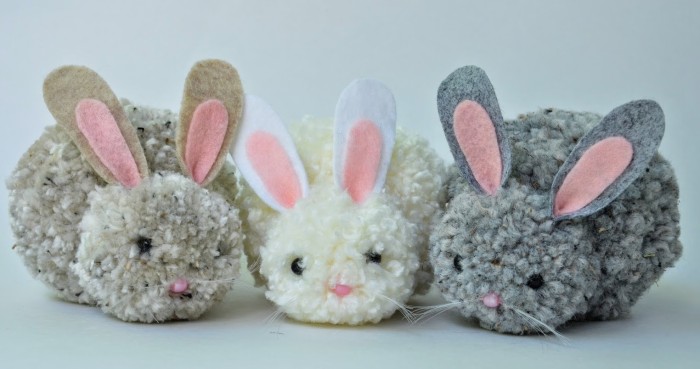 1. Cute Bunny Part Bunnies: These so cute Bunnies are made with different beautiful colors, which looks awesome. You can use these bunnies for party decoration.
2. Loom Knit Bunny: A loom knit square and turn it into a cute bunny rabbit! Perfect for the upcoming Spring and Easter Season. It is a loom knitting pattern but you could easily just knit a square and make it easly.
3. Ferrero Rocher Easter Bunnies: These little Ferrero Rocher Easter Bunnies are popping their heads up out of their holes just in time for Easter. They're super simple so why not make like bunnies.
4. Easter Bunny Envelopes: A great creative idea to make Easter Bunny Envelopes to carry easter candies for kids. Surely you can have fun with them.
5. Golf Ball Easter Bunny: Easter is coming and there is still plenty of time to create these fun and easy Easter Bunny Crafts. You can make them with either a golf ball or a wood bead.
6. Baby Pom-Pom Bunny: A Baby Pom-Pom Bunny would be a fun little Easter gift for your kids and for Easter this Baby Pom-Pom Bunny would be super cute decor for your desk.
7. Recycled Mooshy Belly Bunnies: Anyone can make this little Mooshy Belly Bunny, and even with a screw up or two, it will still look sweet and be mooshy and stuff. And this is an easy plushie to make.
8. Polymer Clay Easter Bunny: So cute thought to make a Easter Bunny using polymer clay. Here suitable colors also used to make perfect bunny for this easter.
9. Simple Burlap Bunny: Simple Burlap Bunny, could stick this just about anywhere. In a floral arrangement, basket, wreath, or on a shelf or mantle. It only took about 30 minutes, and cost less than a dollar.
10. Easter Bunny Mini Donuts: Here's a fun, yet easy recipe you can do for Easter! These Bunny donuts are simple to make and only need a few ingredients.
11. Chocolate Bunny: This plush little Chocolate Bunny is a long-lasting alternative to his candy kin. These Lil Softees are quick and easy to make.
12. Crochet Monster Easter Bunny: Crochet Monster Easter Bunny is one very cutest Easteregg bunny. To make this Crochet Monster Easter Bunny darling baby toy used a plastic egg.
13. DIY Handmade Bunny Purse: Bunnies really are the cutest little things. DIY handmade bunny purse – perfect for a girl's Easter basket.
4. Washcloth Bunny: Washcloth Bunny would be the perfect craft to make this month! They are fun they are soft and they can double as a Boo Boo Bunny after the holiday is over.
15. Pumpkin Sock Easter Bunny: This quick and easy sock bunny tutorial is the perfect last minute Easter craft that you can make for the kids or with them.
16. Baby Food Jar Bunny: The Baby Food Jar Bunny is a great idea to recycle the baby food jar as candies holder. It must be a Easter decorating item.
17. Fabric Easter Bunny: The cutest Fabric Easter bunnies made with easter dresses and each a bunny to match the dress. They turned out well and surely girlies will love them.
18. Bunny Topiary: This sweet bunny topiary graced your table as a centerpiece for an Easter meal. This sweet bunny topiary is so precious.
19. Paper Clay Bunny: Very funny and awesome Paper Clay Bunny. Nothing like this little cute to make you "think spring" and "Little Bunny FooFoo . . ." makes you smile, too.
20. Yarn Easter Bunny: The beautiful Yarn Easter Bunny project for this easter. It will a lot of fun pulling together these Easter Bunnies.
21. Amigurimi Bunny: This little bunny is made in Japanese amigurumi style, a super-sweet look in which the heads are bigger than the bodies and the faces often take on human expressions.
22. DIY Funny Bunny: These cute Funny Bunny is made using AquaBall. This is an easy and budget-friendly craft to make with your Kids.
23. Easter Bunny Babies: These Bunny Babies are made with small pastel socks. These are so cute and petty with different colors.
24. DIY Easter Bunny: Use this cute bunny to spice up your easter party or decorate your home. You might also craft together with your children.
25. Easter Bunny Sucker: These lovely bunny suckers are great homemade gifts for Easter. Your kids will love these cutest Easter Bunny Suckers and enjoy making them.
26. Easter Bunny Bag: Easter Bunny Bag is an easy to make which you can use it to store any things. Begin early to prepare for Easter.
27. Felt Easter Bunny: The fun thing about these Felt Easter Bunnies is that they slide over the top of a plastic easter egg that you can fill with goodies.
28. Bunny Candy Holder Loopy Chenille: This loopy chenille bunny candy holder is super easy to make and can be used for more than just candy. This would be perfect for a gift from the Easter bunny.
29. Oopsey Daisy Bunnies: Adorable! Bunnies and burlap are a great combination, burlap that would be perfect for this! So creative…
30. Easter Bunny Craft with Qtips: This little Q-tip bunny has hopped it's way to your house for a fun little adventure.
You may also like our post 31 Most Trendy Ways to Decorate Easter Eggs.
Like our post? Please leave a comment below.. they inspire us..